About Us
In the year 2005, a federation of farmers' clubs in Sirkazhi, Nagapattinam district, was registered as a society. It was named Sirkazhi Organic Farmers' Association (SOFA). With 240 members comprising of 13 farmers clubs and 3 women SHGs, this association has been providing technical support, credit support and marketing support for the members. Organic rice and rice based value-added products are being marketed through SOFA.

This association was mentored by Centre for Indian Knowledge Systems (CIKS), an NGO working towards improving the livelihood security of small and marginal farmers through indigenous agriculture. CIKS also supported another federation named Thirumaraikadu Organic Farmers Federation in Vedharanyam, Nagapattinam district. Both these federations felt the need to scale up and do their business effectively. The associations had several rounds of meetings amongst themselves, with experts and with the CIKS team. Finally, it was decided that a new institution in the form of a farmer producer company needs to be incorporated to draw in more farmers, to do effective upscaling and to move forward. As a result of technical support from CIKS, Chennai and Vrutti, Bengaluru, Valanadu Sustainable Agriculture Producer Company Limited (VSAPCL) was registered on 20th November 2013 under the Companies Act of the Government of India.
Vision
Sustainable agriculture through collective action.

Mission
To help the farmers to adopt technologies which will aid in reduction of cost of cultivation.
To increase the productivity of paddy, groundnut, pulses thereby increasing the income level of farmers.
To support marketing of certified organic and NPM products.
To promote conservation, production and marketing of traditional crop varieties.
To support climate smart agriculture practices and optimum use of natural resources.

Years since inception
(20th Nov, 2013)

Panchayats covered in
Nagapattinam district

Farmer households
covered

Board members
(11 male, 2 female)
| | | | | |
| --- | --- | --- | --- | --- |
| Particulars | 2013-14 | 2014-15 | Total | % |
| Male Shareholders | 1,416 | 307 | 1,723 | 57% |
| Female Shareholders | 758 | 521 | 1,279 | 43% |
| Total | 2,174 | 828 | 3,002 | |
| | | | | |
| --- | --- | --- | --- | --- |
| Category | 2013-14 | 2014-15 | Total | % |
| Landless shareholders | 121 | 87 | 208 | 7% |
| Small and Marginal farmers sharholders | 1,973 | 692 | 2,665 | 89% |
| Medium and Large farmers shareholders | 80 | 49 | 129 | 4% |
| Total | 2,174 | 828 | 3,002 | |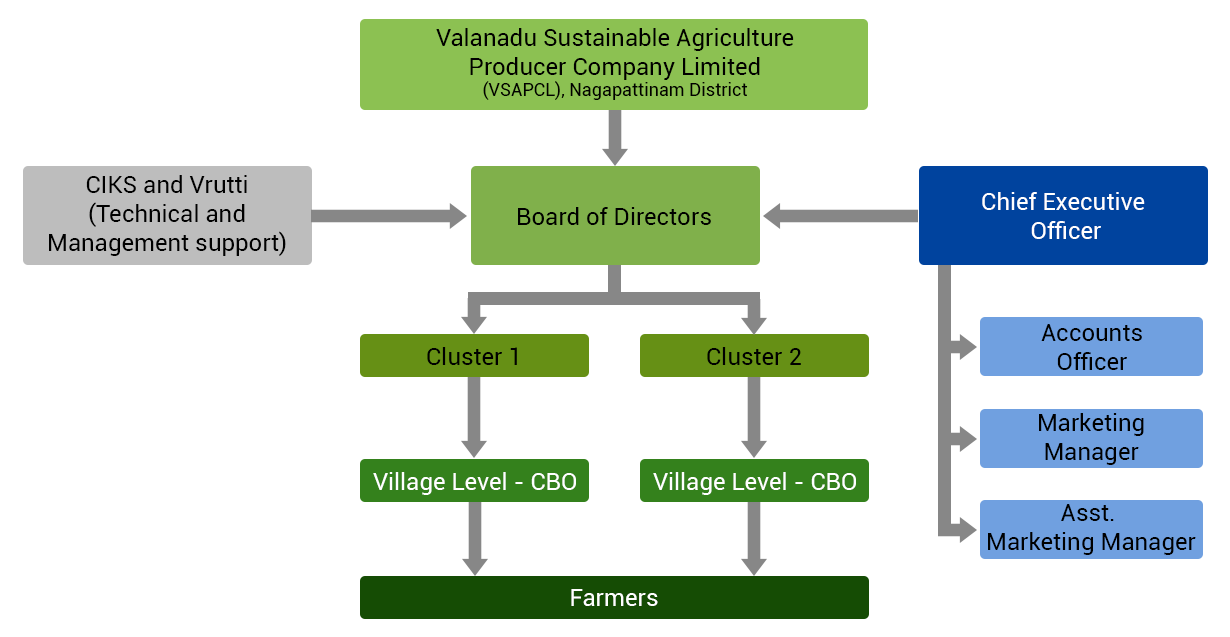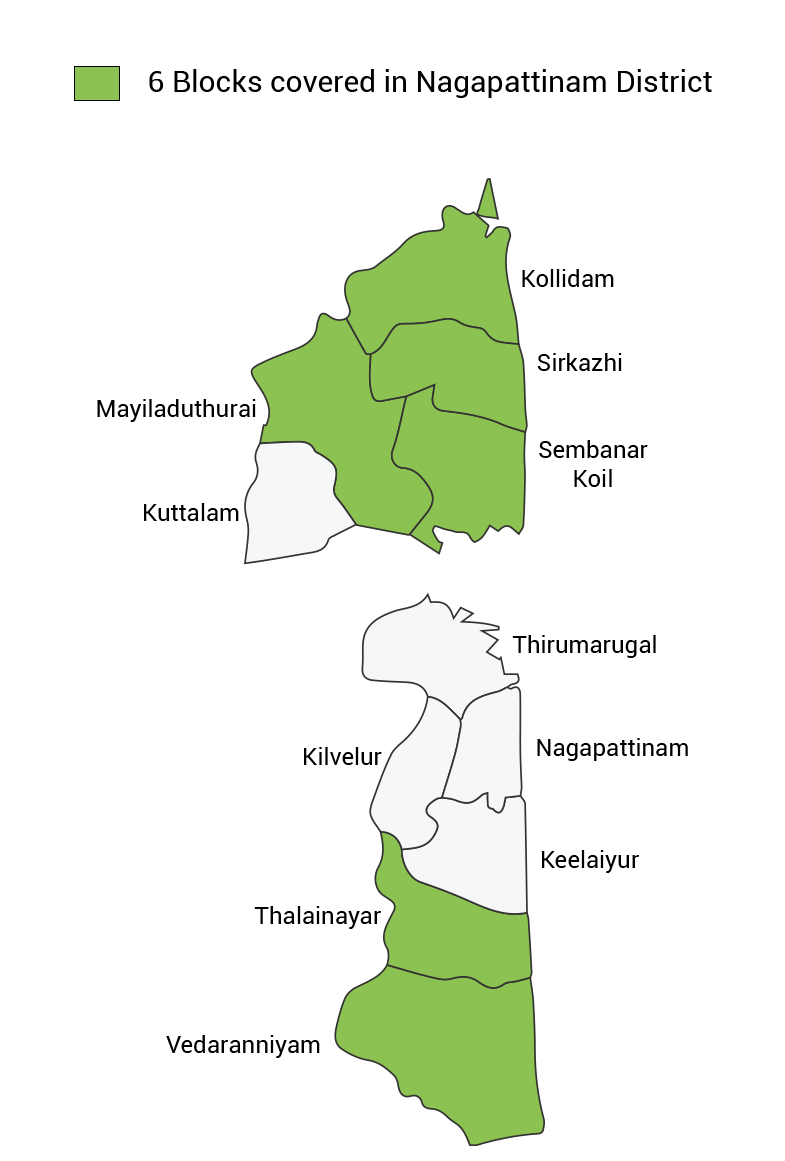 | | | | | | |
| --- | --- | --- | --- | --- | --- |
| S.No | Name | Educational qualification | Occupation | Mobile Number | DIN NO |
| 1. | Subhashini Sridhar (CEO) | B.Sc (Agri), MBA (HRM)., | Agriculture Professional | 9443277417 | 6805964 |
| 2. | K.Jayapal | DME | Agriculture | 9600454171 | 6665071 |
| 3. | S.Sellappa | HSC, ITI | Agriculture | 9487884468 | 6665102 |
| 4. | E.Muralidharan | SSLC | Agriculture | 9442397898 | 6689106 |
| 5. | S.Sambasivam | M.A | Agriculture | 9486528123 | 6665093 |
| 6. | S.Murugaiyan | B.A | Agriculture | 9444289222 | 6641886 |
| 7. | A. Vani | SSLC | Agriculture | 9486311351 | 6806022 |
| 8. | M. N. Nagarajan | SSLC | Agriculture | 8508006212 | 6807090 |
| 9. | U. Sivakumar | HSC | Agriculture | 9942595957 | In progress |
| 10. | K. Krishnan | MA | Agriculture | 9444054502 | 6805993 |
| 11. | M.S. Ramavel | ITI | Agriculture | 9442067211 | 6812595 |
| 12. | M. Kanchana | SSLC | Agriculture | 9943767396 | In progress |
| 13. | G. Balasubramanian | SSLC | Agriculture | 9751803823 | 6805970 |